Loaded – Cran Apple Iced E-juice – 120ML
In addition to the amazing Loaded flavors of S'mores and Glazed Donuts, Ruthless Vapor is excited to introduce the new Iced Cran Apple E-Juice! This new delicious e-liquid is a juicy mixture of crisp apples and rich cranberries with a cool menthol twist. Shower your taste-buds in this ridiculously succulent blend with the perfect balance of sweet and tart flavoring. Designed for vape fans that love to quench their thirst with a tall cold glass of refreshingly sweet juice. Grab yourself a 120ml bottle of this brand new chilled cranberry-apple combination that will make you crave the real thing.
Bottle Size: 120ml
Nic Level: 0MG, 3MG, 6MG
Ratio: 70VG/30PG
Flavor Profile: Crisp Apple, Sweet Cranberry, and Cool Menthol
Features
 | The Loaded Promise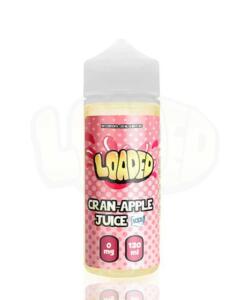 120ML Bottle Size
An always unbeatable value.
Premium Quality
Quality nicotine extracts & only premium ingredients.